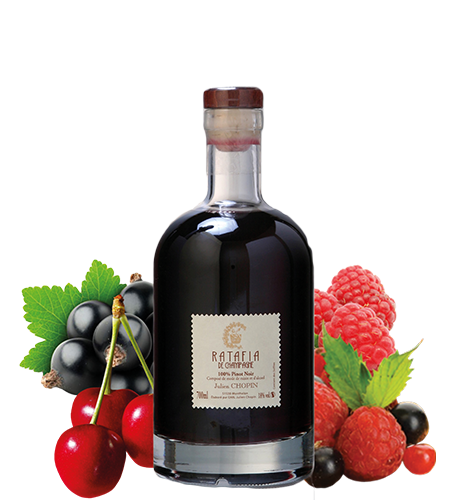 LES RATAFIAS CHAMPENOIS* – Pinot noir
Blending : 100% Pinot noir in maceration system
Ageing in oak barrel : 2 years
*The ratafia Julien Chopin Pinot noir can't be named "ratafia champenois". Since 2015, the rules of ratafia champenois production have changed. A ratafia produced with a skin contact maceration doesn't respond to the new specifications set for ratafia champenois production.
| | |
| --- | --- |
| | The purple colour of this ratafia is intense. Extremely deep, the colour is also ponctuates with red refections. |
| | The first olfactive impression is intense. We notice plum jam aromas, prune and black cherry. After a few seconds, blackberries, rasberries and cacao aromas emerge. |
| | This ratafia breaks the received ideas about ratafia. With its colour almost black, the ratafia pinot noir offers an exceptional intense and franc aromatic expression. |
| | It a very atypical ratafia, ready to take up any meal challenges : chocolat or red fruits dessert, blue cheeses… |
To order this cuvée online : click here !