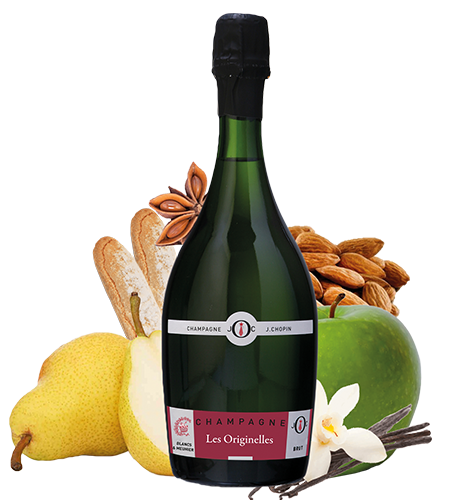 LES ORIGINELLES – Blancs & Meunier brut
Blending : Shhh ! It's a secret…
Ageing : 4 years       Dosage : 7 grams per liter
The wine has a pure yellow golden color with green glints which underlines the youth-fulness and the presence of an important proportion of black grapes in the blending. The effervescence is lively, impressive and creates small bubbles.
The first olfactive impression is noted. Some feelings of lemon, apple and white pepper are coming out subtly. Then, few seconds later, we could feel some white flowers (like jasmine), fresh almond on a vegetal aspect very fresh and especially
delicate.
The flavor in the mouth is sharp, the effersvence is blended in the wine. It is on the very beautiful acidity of champagne that the second part of the tasting will be organized. The tasteis liveland, pure and the balance sugar – acidity is marked by a moderate dose. Accompanied by a delicate winy taste, the taste remains right and strained until the end.
Finally, we advise you toserve this wine with soft dishes, marine and salted ones, with firm textures and nice origins (purity). We suggest: filet of seabass for example.
To order this cuvée online : click here !
LES ORIGINELLES BLANCS & MEUNIER BRUT